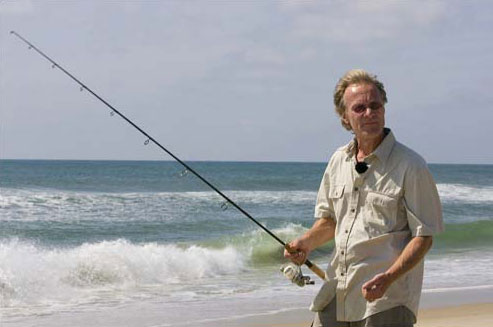 On the Water with Gary Rymer
The Chesapeake, the Virginia and the North Carolina coastal waters offer some of the richest fishing waters and most beautiful boating experiences one may have. But the idea of heading offshore in Hatteras in a 17 foot Aquasport is not one to be considered lightly. The sea can change her character in a heartbeat, and it takes knowledge, experience and a great deal of respect to respond safely to the challenges she may present.
I have taken this offshore adventure with Gary Rymer, a man I trusted at the helm of that 17 footer in some rather large seas and navigating some seriously treacherous inlets. Our fishing dates back to when we were 12 years old, chasing huge rays from a Boston Whaler off the beaches on the Bay's western shores. In early spring we would anticipate hearing the peepers (tree frogs) fill the evening air with their song and we'd know the white perch migration was underway. In summers we'd find a mound to drift over looking for flounder. I spoke with him recently and asked him to share his thoughts with The Sportsman's Magazine.
The Bay offers great bottom-fishing, trolling, live-bait fishing and it does so in all seasons. In early spring, Gary will start looking for where the rock fish will start showing up, developing a strategy to prepare for trophy season. Usually launching around the mouth of the Patuxent, he'll begin his explorations and range as far north, south or east as any day will permit.
Warm water discharges in these still cold waters often attract perch, the occasional trout or bluefish, huge catfish, rockfish and even a rare drum or two. As the waters warm, Gary starts trolling for the big Rock and he'll vary light weights and bucktails with parachute and umbrella rigs, generally staying fairly high in the water column. He finds the big fish tend to attack from below, striking up toward their prey.
As the waters warm, the big fish tend to disperse and Gary prefers, then, to go live-lining. He'll fish bloodworms and catch a few spot or perch and then send them out to look for larger fish, rock, blues or trout. As seems to be the case most everywhere, the large trout have not been as present in any significant number as they used to be. Gary thinks that whether this phenomenon is cyclical or is influenced by other factors is a matter for careful study – not knee-jerk reactions and pronouncements by anyone who cares about fisheries.
Summers' warmer waters bring a fantastic array of fishes, from spot and hardhead to Spanish mackerel and blues, black and red drum to flounder. Gary looks for the locust trees to start their bloom and finds that around this time he might find a soft crab or two – probably the single greatest and most universally devoured bait in the bay, its tributaries and its surrounding waters, from Delaware to Virginia.
Gary's game plan – he usually tries to have one – will change by location, season and technique. He talks to other boaters and fishermen to stay informed about edges, troughs, structure and where the fish are moving. When he locates fish, he fishes the area hard – "Never leave fish to go find fish" is an old saying he believes in.
When trolling, Gary will often use a combination of double rigs using bucktails and swim shads of one kind or another and weighted from four to nine ounces, a parachute rig or umbrella, and small, in-line down-planers with small spoons to vary his depths, presentations, and to keep control of the lines he has out. While he has found planer boards to be a useful and productive method of fishing, from his own boat, with a friend or two, Gary prefers methods which are more easily controlled and more easily changed.
Sight casting to breaking schools, bird activity or bait shoals is another productive and exciting way to enjoy a day out on the waters, and a useful technique to add to others both inshore and in blue water.
Catching trophy rock is a great experience for anyone, but chasing a variety of fish by trolling, spin-casting, bottom-fishing or live-lining offers Gary and his fishing companions the best of all the experiences our waters have to offer, from white perch making their way into the tributaries to mahi and wahoo making their way well off-shore.
Related Posts
More From This Category